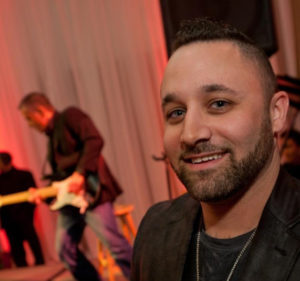 With 20+ years of experience yet not even 40 years old, MC Andrew has always been the outlier. An industry veteran, leader and mentor, Andrew's clients have included major multi-national corporations and some of the most valuable sports franchises on the planet, he's done celebrity events, product launches, multi-day conferences, as well as multi-cultural, same-sex, destination and backyard weddings from Guadalajara, MX to Banff, Alberta, CA and NYC to Beverly Hills.
Some of the events he's been fortunate to have been a part of designing or performing for include David Tutera Couture Weddings at Walt Disney World (Orlando, FL) to the Grand Opening of Estadio Omnilife (Guadalajara, MX), luxury weddings from Charleston, SC to Alberta, CA and productions from a Destination
50th
Birthday Party at the Beverly Hills Hotel to a concert on the National Mall in DC.
"I've been way too fortunate in this business. I get to do what I love and I get to do it in unique ways and amazing locations with incredible clients. I'm living the dream and always looking for ways to pay it forward."
Event Producers, Planners and venues LOVE working with Andrew and his team as they constantly strive for the highest quality and attention to detail.
"There's something transcendent about everyone being connected to the same moment together and THAT'S what makes what I do so much fun!"
Awards:
Awards
6 x Entertainment Producer of the Year | 4 x Event of the Year | 2 x Non-Profit Event of the Year | 3 x Wedding of the Year
Entertainer of the Year | International Special Events Society's Rising Star
2,000+ events, 50+ cities, 16 states, 3 countries