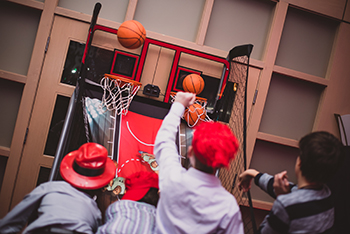 General Game Addons
We have a variety of games for your guests to enjoy, ranging from basketball to interactive games on the dancefloor. Gaming addons serve as a great add-on for your younger guests, and are best complimented with one of our DJ services.
Casino Games & Poker

Looking for fun way to step up your event? One of our most popular themes are Casino or Poker Themed Parties! We have Everything you need to create a great night of gaming and fun. The best tables in the business along with a staff that's fun, patient, and who loves to teach the games they play.
Our Casino and Poker gaming packages include delivery and setup immediately prior to the start of the event. We have everything from black jack and roulette, to 10 seat poker tables and Crap's. You also have your choice of a professional Texas Hold Em' Tournament with tournament director and even a projection screen that display's the current blinds and round countdown. We also have prizes available, from raffles to chip counts so that your guests have plenty of motivation to go for it! Our funny-money is also a great way to personalize the night's activities.
Fundraisers and Charity Events
When it comes to fundraising on behalf of your foundation or charity, a Casino or Poker Room option is great way to maximize your fundraising potential. PTA Fundraisers, Athletic Team Fundraisers, School Fundraisers even Pet Rescue fundraisers have all benefited from our well-staffed, professionally run events. Revenue from Sponsored Casino Fundraiser Tables is not only a great way to pay for the tables but also adds additional revenue to your fundraising goal.
Business who sponsor tables not only usually pay for the cost of your tables but also donate prizes for the winners that fuel the nights activities. We can place the logo's of the sponsor on the money or simply place their brochures or literature on a nearby table. For the sponsor, its not only a great cause but a awesome advertising opportunity as well.
All of our Games come fully staffed and a 'Pit-Boss' is also available for to make sure everyone is having a phenomenal time.