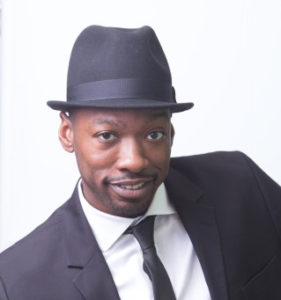 Noel Sonkwa
DJ, MC, & Motivator
My DJ career may have started more than a decade ago, but the experience gained during my time here has been priceless. My beginnings here as a party motivator gave me the inside track on the dynamics of the dance floor that so many DJ's and MC's today would love to have had. As an MC and DJ today, I find myself in love with what I'm able to do for our clients.
Considering how much I've moved in the last few years I do still feel as though I am indeed from Washington D.C.. Although I can say I truly 'of' Georgetown, Alexandria, and Silver Spring, I've also lived a number of years in N.Y.C. as a professional dancer and DJ. I graduated from The National Conservatory of Dramatic Arts in 2001. I've used all of this training in my time since graduation in theatre and have found that their use in the entertainment industry live can have biiiig effect in keeping an event fresh and 'in the moment'. My motivation for events is always the same and comes from the theatre. Specificity of emotion, specificity of personality and living in the moment. I've noticed that preparation and living in the moment can make even the smallest events a memory that lasts a lifetime.
Experience
My professional DJ career began in the NYC jazz scene and is discernible throughout my music. Thanks to my cousin, D.C. jazz legend Brian Settles, my exposure to this art form matured exponentially. In 2005, I began to promote and DJ at electro and house events at famed NYC venues, such as APT, Cielo, Studio B, Galapagos, and Pacha. With the blistering number of events I've performed up and down the east coast, I've realized that my combination of the skills from true "turntable only" mixing to multi-genre computer driven mixing have been what has set me apart in these past 10 years.
I have say thank you, to all of those who allowed me to be a part of their celebrations in the past and thank you to every to everyone who will allow me to be a part of their celebration in the future.
Favorite Quote:
"If you do not take time, you will not have time."